A Singleton, in software engineering, is a design pattern that is used when you only want/need to allow one instance of a class. This is specifically useful when the class instantiation of the said class is resource expensive (e.g. database connection, graphics driver, network resource and file streams…).
Below is a UML describing the implementation details of a Singleton.

Here is an example of a Thread-safe Singleton implemented in C#. In this example, we are trying to simulate a DbConnection object. The DbConnection object has a private constructor that blocks users of this class from 'new-ing' this object. Instead, the DbConnection object has a property called Instance that allows users creates a copy of DbConnection.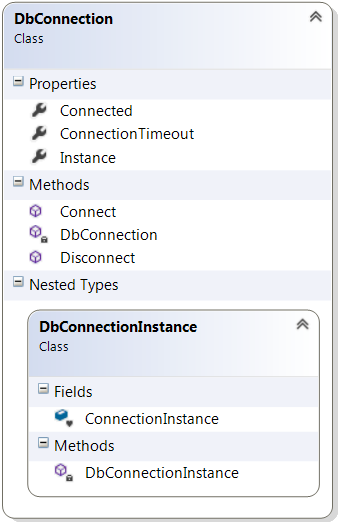 DbConnection as a Singleton
1

2

3

4

5

6

7

8

9

10

11

12

13

14

15

16

17

18

19

20

21

22

23

24

25

26

27

28

29

30

31

32

33

34

35

36

37

38

39

40

41

42

43

44

45

46

47

48

49

50

51

52

53

54

55

56

57

58

59

60

61

62

63

64

65

66

67

68

69

70

71

72

73

74

75

76

77

78

79

80

81

82

83

84

85

86

87

88

89

90

91

92

93

94

95

96

97

98

99

100

101

102

103

104

105

106

107

108

109

110

111

112

113

114

115

116

117

using

System

.

Collections

.

Generic

;

namespace

DesignPatternsWorkbook

.

SingletonPattern

static

void

Main

(

string

[

]

args

)

// DbConnection object gets created on first call

var

connection1

=

DbConnection

.

Instance

;

connection1

.

ConnectionTimeout

=

100

;

// Create another instance to show that our Singleton is working

var

connection2

=

DbConnection

.

Instance

;

//Compare both bobjects and see if they are equal

if

(

connection1

==

connection2

)

Console

.

WriteLine

(

"connection1 and connection2 are the same instance\n"

)

;

//We've only set the ConnectionTime property on connection1. Let's check if it propagate to connection2

Console

.

WriteLine

(

"Both should have the same connection timeout value."

)

;

Console

.

WriteLine

(

String

.

Format

(

"connection1.ConnectionTimeout: {0}"

,

connection1

.

ConnectionTimeout

)

)

;

Console

.

WriteLine

(

String

.

Format

(

"connection2.ConnectionTimeout: {0}"

,

connection2

.

ConnectionTimeout

)

)

;

Console

.

WriteLine

(

"--------------\n"

)

;

//try to do a connection using connection1

Console

.

WriteLine

(

"connection1.Connect() is called...."

)

;

Console

.

WriteLine

(

"--------------\n"

)

;

//try to do a connection using connection2 and see what happens

Console

.

WriteLine

(

"connection2.Connect() is called...."

)

;

Console

.

WriteLine

(

"--------------\n"

)

;

//try to disconnect using connection2

Console

.

WriteLine

(

"connection2.Disconnect() is called...."

)

;

connection2

.

Disconnect

(

)

;

Console

.

WriteLine

(

"--------------\n"

)

;

//try to diconnect using connection1 and see what happens

Console

.

WriteLine

(

"connection1.Disconnect() is called...."

)

;

connection1

.

Disconnect

(

)

;

Console

.

WriteLine

(

"--------------\n"

)

;

/// Our Singleton class implementation

public

class

DbConnection

// Make the constructor Private to prevent 'new'

private

DbConnection

(

)

{

}

// The instance read only property

public

static

DbConnection

Instance

get

{

return

DbConnectionInstance

.

ConnectionInstance

;

}

public

int

ConnectionTimeout

{

get

;

set

;

}

/// A sample property used to hold or Connection status

public

bool

Connected

{

get

;

private

set

;

}

/// A sample method to simulate a connection

//check if the object is currently connected

Console

.

WriteLine

(

"Can't Connect. There is currently an active connection."

)

;

Console

.

WriteLine

(

"You are now connected."

)

;

/// A sample method to simulate a disconnection

//check if the object is currently connected

Console

.

WriteLine

(

"You are now disconnected!"

)

;

Console

.

WriteLine

(

"There is no active connection to disconnect"

)

;

// The nested class with the actual DbConnection object

private

class

DbConnectionInstance

//our connection instance

internal

static

readonly

DbConnection

ConnectionInstance

=

new

DbConnection

(

)

;

static

DbConnectionInstance

(

)

{

}
Running the above code will have this output: