I had some free time during the holidays and saw at the MIX09 website that they have a contest entitled MIX09 10K Challenge where they ask participant to create a web application that is either using Microsoft® Silverlight™ or Windows Presentation Foundation, as a XAML Browser Application running in Partial Trust or as a ClickOnce application in 10 kilobytes or less. I decided to take a stab at it and this is what I've came up with
SilverCalendar: A Silverlight Pregancy Calendar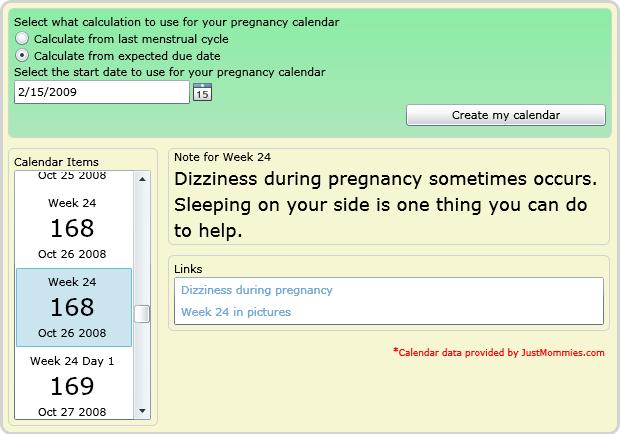 You can see the app live here http://2009.visitmix.com/MIXtify/TenKDisplay.aspx?SubmissionID=0051
Dont forget to vote when you're there 😛 LOL
My primary motivation when I built the app is the idea of having something that is going to be useful and at the same time fun to build. My wife is currently 34 weeks pregnant and it made me think that a pregnancy calendar would be q great application to do since it relates to me and my current day to day life. I love pregnancy calendars because it gives you a good daily insight on the progress of your baby and what you might expected as you go along in your daily life as a soon to be parent.
The application that i built is using Microsoft Silverlight 2 with a backend WCF web service. You can find the pregnancy calendar web service here. I wasn't able to add any animations to the application because I decided to concentrate in adding functionality to app rather than the eye candy' With that said, I'll be posting the non-10K application this week.
Be sure to comeback on this blog in the coming weeks because I'll be publishing the source code to both project soon together with a 11 part tutorial and screencast walkthrough that i have prepared to show how to to build an application using .NET 3.5, WCF, WPF and Silverlight.